Current Light
時光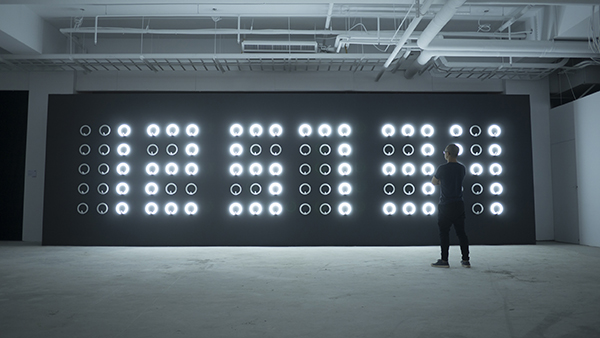 Installation
Electronic devices, fluorescent lamps
800cm (W) x 400cm (D) x 300cm (H)
2015-2016


Human being divides time into trivial units of hour, minute and second. It becomes an instrumental system that is beyond the languages and connects the world. However, time is an idea of flowing. Each organisms experience time and its' working rhythm in a different way.

Current Light display numbers indicating hour, minute and second that synchronizes real time through light of fluorescent light. But because fluorescent light is an analog product, time from the moment electric pass through until it was lighted often exceeded one second. Utilizing its' physical limitation, Yao Chung-Han reveals the experience of time through visual indication of "too late to reveal…" or "anticipating the arrival of next period of time…".

The flow created from attempt to synchronize with time, is the most vital character of time.



人類以時、分、秒的度量方法將時間分割成數個細小單位,成為一種連結世界的工具性系統,超越了語言的限制。然而時間是一種流動的概念,每種生物對於時間的感知及運行韻律也各有不同。
〈時光〉以日光燈的光亮顯示時、分、秒等數字,與現實時間同步。然而由於日光燈是一種類比的產品,從通電到亮起所需時間往往超過一秒。姚仲涵藉此物理性限制,在視覺上出現了一種「來不及顯示...」或是「期待下一個時間的到來....」的時間感受。
為了要與時間同步而產生了流動感,則是時間最有生命力的特徵。